Pentecost- Happy Birthday to the Church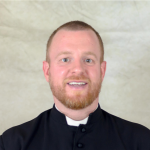 Congratulations to Kaden McLaughlin, Maritza Hernandez, Antonio Jimenez as well as the WCU College Students: Amy Kalayjian, Jennifer Tapia, Brandon Perdue, Garrett Glover, Kristen Fletcher who received their Easter sacraments on the Vigil of Pentecost. Come Holy Spirit, Come, enkindle in them, all of us, and the whole Church the fire of your love and we shall be created and you shall renew the face of the Earth.
Phase II Updates for Confessions and Sunday Mass
Confessions
As a result of the available changes from Phase II Confessions will now return to the indoor confessional. I ask that the confession line begin outside the swinging double doors to the Confessional hallway. There are lines on the floor with blue painter's tape which are 6 feet apart please use these as a reference to maintain social distance as much as possible at all times. During confession times please refrain from conversation in the church Narthex (Foyer/Entrance Area) and please keep swinging double doors closed to maintain privacy of the penitent. Please continue to use the hand sanitizer at the welcome desk as you enter. There will be hand sanitizer to use on the table outside of the confessional before entry. Inside there will be a container of Clorox wipes to wipe down either the kneeler or chair before leaving the confessional.
Sunday Mass
Communion: As a function of the Phase II directives and the Directives from the Diocese it is not necessary to social distance within families and it is not necessary to purify and sanitize between individual family members for the distribution of Holy Communion. In light of this fact I am asking couples and families to come to the same communion station together. I am asking the ushers at the drive in Mass to release whole cars together and to go to the same Communion station. This will enable for more efficient distribution of Holy Communion and families to remain together during Communion.
Lawn Chairs for Drive in Mass: People no longer need to remain in their cars during drive in Mass. If people would like they may bring folding lawn chairs to sit out in front of their cars during Mass. Those who may be parked in the second row may bring their chairs to sit in the front entry lane in front of the first row of cars. There is again no need to maintain social distancing within households/families however we must still maintain social distancing between families.
Use of Masks/Face Coverings Outside: While outside it is not necessary to wear a mask or face covering as long as we are able to maintain social distancing of 6 feet or more from non-family or household members. If we cannot maintain social distancing, then masks or face coverings are to be worn. I continue to ask that masks or face coverings be worn at all times inside the church building with the exception of the moment of reception of Holy Communion.
As a reminder these policies flow from charity. It is a true act of love to desire to protect our neighbor so that we can continue to participate in greater community during these difficult times. We need to be greater examples of love in the world, a love that sacrifices for the other if we hope to evangelize and transform the culture one act of love at a time.
Eucharist Bible Study Series 
ONLY Thursday and Friday this week 7-8:30pm
Please continue to join us as you can this week for our study series on the Eucharist and the Mass. Thursday, and Friday. We fell behind one segment last week and so this week we will cover The Last Supper and the Cross: The New Passover of Christ, The Mass: Emmaus and the Mystery of the Eucharist. All segments can be watched on Formed.org and discussion sessions are posted on our YouTube Channel St. Mary Mother of God Catholic Church Sylva, NC. The Zoom sign in information is as follows:
Join Zoom Meeting https://us02web.zoom.us/j/3599363721?pwd=cTd1NDVPbldwOHlVSTJOTU9tRzM1QT09
By phone (646) 558-8656
Meeting ID: 359 936 3721
Password: 096866
(If you are able to download ahead of time the study guide and view the video, in case your internet won't support the video for Zoom.)
The Weekly Wednesday Zoom Chat with Father is being discontinued due to lack of interest.
In the future I may schedule open Zoom Chats for special events or for important topics of discussion.
---
Querida familia parroquial
Pentecostés- Feliz cumpleaños a la iglesia Felicitaciones a Kaden McLaughlin, Maritza Hernández, Antonio Jiménez, así como a los estudiantes universitarios de WCU: Amy Kalayjian, Jennifer Tapia, Brandon Perdue, Garrett Glover, Kristen Fletcher, quienes recibieron sus sacramentos de Pascua en la Vigilia de Pentecostés. Ven Espíritu Santo, Ven, enciéndete en ellos, todos nosotros, y toda la Iglesia, el fuego de tu amor y seremos creados y renovarás la faz de la Tierra.
Finanzas trimestrales
Hemos puesto a disposición el informe financiero trimestral para el primer trimestre en e pasillo frente a los baños. El primer trimestre mostrará que hemos tenido una pérdida considerable en nuestros activos netos. La pérdida en los activos netos se debe a la desafortunada disminución del mercado como resultado de los efectos del coronavirus COVID19 en el mercado. La otra área, como se mencionó, es un déficit de ingresos versus gastos que también se deben a los efectos del coronavirus. También notará que nuestro ofertorio tiene el 112% del presupuesto, lo cual es excelente. La pregunta que esto podría causar sería cómo tuvimos un déficit de ingresos versus gastos. Esto sucedió realmente todo como una cuestión de tiempo. La mayoría de nuestros gastos prepagos y recurrentes tienden a ocurrir al principio y al final del mes. Hubo una serie de gastos en marzo que coincidieron con bajas semanas en nuestro ofertorio. Desde ese momento, a través de la Ley CARES, se nos otorgó la financiación de un Plan de protección de nómina, junto con un repunte saludable en nuestro ofertorio que nos permitió recuperar una posición de ingresos saludable frente a los gastos. Sin embargo, a veces seguimos siendo un poco delgados con respecto a nuestro flujo de efectivo versus gastos, porque en el asesoramiento del Consejo de Finanzas ya no usamos nuestros rendimientos de Dotación cuando están disponibles para cubrir los gastos operativos normales. Estamos utilizando estratégicamente los rendimientos patrimoniales para generar ahorros para mejoras de capital además de las contribuciones normales o regulares a nuestro fondo de mejoras de
capital. Al final, todavía lo estamos haciendo muy bien, incluso en estos tiempos difíciles de la pandemia gracias a la continua generosidad de nuestros feligreses. Una vez más quiero agradecer a todos por su continuo apoyo a nuestra parroquia. Sinceramente en Cristo Jesús por
María.
Misa dominical
Comunión: en función de las directivas de la Fase II y de las Directivas de la Diócesis, no es necesario distanciarse socialmente entre las familias y no es necesario purificar y desinfecta entre los miembros individuales de la familia para la distribución de la Sagrada Comunión. A la luz de este hecho, les pido a las parejas y familias que vengan juntas a la misma estación de
comunión. Les pido a los ujieres que conducen en la misa que suelten autos completos juntos y que vayan a la misma estación de Comunión. Esto permitirá una distribución más eficiente de la Sagrada Comunión y las familias para permanecer juntas durante la Comunión.
Sillas de jardín para conducir en la misa: las personas ya no necesitan permanecer en sus automóviles durante la conducción en la misa. Si la gente quisiera, pueden traer sillas de jardín plegables para sentarse frente a sus automóviles durante la misa. Aquellos que pueden estacionarse en el segundo la fila puede traer sus sillas para sentarse en el carril de entrada
delantero frente a la primera fila de automóviles. Una vez más, no es necesario mantener el distanciamiento social dentro de los hogares / familias; sin embargo, debemos mantener el distanciamiento social entre las familias.
Uso de máscaras /cubiertas faciales en el exterior: Mientras que en el exterior no es necesario usar una máscara o una máscara para la cara, siempre que podamos mantener un distanciamiento social de 6 pies o más de los miembros de la familia o no familiares. Si no podemos mantener el distanciamiento social, entonces se deben usar máscaras o cubiertas
faciales. Sigo pidiendo que se usen máscaras o cubiertas faciales en todo momento dentro del edificio de la iglesia, con la excepción del momento de la recepción de la Sagrada Comunión.
Como recordatorio, estas políticas fluyen de la caridad. Es un verdadero acto de amor desear proteger a nuestro prójimo para que podamos continuar participando en una comunidad más grande durante estos tiempos difíciles. Necesitamos ser mejores ejemplos de amor en el mundo,
un amor que se sacrifique por el otro si esperamos evangelizar y transformar la cultura un acto de amor a la vez.
Serie de estudios bíblicos de la Eucaristía:
SOLO jueves y viernes de esta semana 7-8:30pm Continúe uniéndose a nosotros esta semana para nuestra serie de estudios sobre la Eucaristía y
la Misa. Jueves y viernes. Nos quedamos atrás en un segmento la semana pasada, así que esta semana cubriremos La Última Cena y la Cruz: La Nueva Pascua de Cristo, La Misa: Emaús y el Misterio de la Eucaristía. Todos los segmentos se pueden ver en Formed.org y las sesiones de discusión se publican en nuestro canal de YouTube Iglesia Católica St. Mary Madre de Dios Sylva, NC.
La información de inicio de sesión de Zoom es la siguiente:
Únase a Zoom Meeting
https://us02web.zoom.us/j/3599363721pwd=cTd1NDVPbldwOHlVSTJOTU9tRzM1QT09
Por teléfono (646) 558-8656
ID de la reunión: 359 936 3721
Contraseña: 096866
(si puede descargar con anticipación la guía de estudio y ver el video, en caso de que su Internet no admita el video para el zoom)
El miércoles semanal Zoom Chat con el padre se suspende debido a la falta de interés. En el futuro, puedo programar Zoom Chats abiertos para eventos especiales o para temas importantes de discusión.