Dear Parish Family,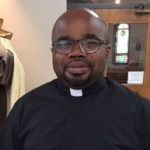 I wanted to share with you about myself. I am one of six children, three boys and three girls and my parents are both late in 2006. The past two years I have been assigned to St. Therese in Mooresville as a parochial vicar.
I am from Nigeria and a member of the Missionary Society of St. Paul. I was ordained a priest in Abuja, Nigeria on the 19th of October in 2002 by Archbishop Padilla (Papal Nuncioto Nigeria).
My first assignment for a year was at the Cathedral of Our Lady of Fatima in Kano Diocese in the North of Nigeria after which I was assigned to the Missionary Society of St. Paul's Formation House/Seminary from 2003-2006. I did a course in Religious Formation Ministry in Dublin Ireland from between 2006-2007, a Masters in Peace Studies and International Relations at the Hekima Jesuit College in Nairobi Kenya. I also worked in the St. Patrick's Society Theology House preparing seminarians for the priesthood in Kenya.
Furthermore, in 2010 I was reassigned back to Nigeria as Assistant Director of Formation in the Missionary Society of St. Paul Formation House, Iperu-Remo Nigeria until June 2018. During this period, I was also Chaplain for the Federal Government Girls College in Sagamu, Nigeria. I have worked in the Seminary for 14 years.
I thank God for the opportunity of ministry across three continents as a missionary. I am excited to be here with you as pastor at St. Mary's. I have asked for the grace of the Holy Spirit to help me minister to you pastorally and spiritually with all the amount of love, humility and gentleness that I can give. I enjoy cycling, walking, reading, music and traveling. Please keep
me in your prayers as I keep you in mine.
Fr. Paul, Pastor
---
Querida familia parroquial,
Quería compartir contigo sobre mí. Soy uno de seis hijos, tres niños y tres niñas y mis padres llegaron tarde a 2006. Los últimos dos años me asignaron a St. Therese en Mooresville como vicario parroquial.
Soy de Nigeria y miembro de la Sociedad Misionera de St. Paul. Fui ordenado sacerdote en Abuja, Nigeria, el 19 de octubre de 2002 por el Arzobispo Padilla (Papal Nuncioto Nigeria).
Mi primer trabajo durante un año fue en la Catedral de Nuestra Señora de Fátima en la Diócesis de Kano, en el norte de Nigeria, después de lo cual me asignaron a la Sociedad Misionera de la Casa / Seminario de Formación de San Pablo de 2003 a 2006. Hice un curso en el Ministerio de Formación Religiosa en Dublín, Irlanda, entre 2006 y 2007, una Maestría en Estudios de Paz y Relaciones Internacionales en el Colegio Jesuita de Hekima en Nairobi, Kenia. También trabajé en la Casa de Teología de la Sociedad de San Patricio preparando seminaristas para el sacerdocio en Kenia.
Además, en 2010 fui reasignado a Nigeria como Subdirector de Formación en la Sociedad Misionera de la Casa de Formación St. Paul, Iperu-Remo Nigeria hasta junio de 2018. Durante este período, también fui Capellán del Colegio de Niñas del Gobierno Federal en Sagamu Nigeria. He trabajado en el seminario durante 14 años.
Doy gracias a Dios por la oportunidad de ministrar en tres continentes como misionero. Estoy emocionado de estar aquí con usted como pastor en St. Mary's. He pedido la gracia del Espíritu Santo para ayudarme a ministrarles pastoral y espiritualmente con toda la cantidad de amor,
humildad y gentileza que puedo dar. Me gusta andar en bicicleta, caminar, leer, escuchar música y viajar. Por favor, mantenme en tus oraciones como yo te mantengo en las mías.
El p. Paul, pastor