Dear Parish Family,
Perseverance And Making A Positive U-Turn: "Facta, non verba" ("Actions, not words.")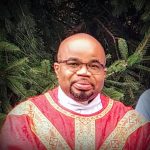 God's call to each and every one of us to love Him and one another, is a call that we persevere in faithfulness to His commandments of love, charity, reconciliation and selfless service. In the first reading God calls the Christian faithful not to turn away from good but to make a U-turn from evil. If we don't, our decisions or choices have certain repercussions or consequences, which is no fault of God. We all have heard or read about politicians who say that they are practicing Catholics or Christians, but who publicly support laws that go directly against some of the most basic tenets of morality as taught by the Catholic Church or our universal Christian faith. Our words as Catholics and Christians must be supported by actions that are in line with God's commandments. That is the difference between the first son and the second. The first son made a U-turn backed by action, while the second son said words that lacked any follow up actions.
If we are honest with ourselves, we even recognize in our own lives this same tendency. We call ourselves practicing Catholics, and yet we spend more time working on our favorite hobbies than on our prayer life. We spend more time becoming an expert in our profession than in our faith. We tolerate in our own lives hidden habits of selfishness and sin while we criticize other people for their more visible faults. That is why many Catholic traditions encourage a daily examination of conscience, reflecting on our words, actions and motivations. If we think about it a little bit, we see more clearly any contradictions between what we believe and how we living. Growth on this is if we are on the right path, to continue to persevere, and if on the wrong path, to make a U-Turn.
Finally, Jesus teaches us in Matthew 5:37, "Let your 'Yes' mean 'Yes,' and your 'No' mean 'No.' Anything more is from the evil one." And in John 8:32, he says, "You will know the truth, and the truth will make you free." May we be people of integrity whose yes means yes, and no means no. May we be true to our callings and responsibilities.
Some Housekeeping:
Thank you for your generous support, as we were able to surpass our financial goal for the Priest Retirement collections! May the Lord Jesus Christ reward you for the stewardship of your treasures. You all deserve a big round of applause.
Fr. Paul Asoh, MSP, Pastor
---
Querida familia parroquial:
Perseverancia y cambio de sentido positivo: "Facta, non verba" ("Acciones, no palabras").
El llamado de Dios a todos y cada uno de nosotros a amarlo a Él y a los demás, es un llamado a perseverar en la fidelidad a sus mandamientos de amor, caridad, reconciliación y servicio desinteresado. En la primera lectura, Dios llama a los fieles cristianos a no apartarse del bien, sino a dar un giro de 180 grados al mal. Si no lo hacemos, nuestras decisiones o elecciones tienen ciertas repercusiones o consecuencias, lo cual no es culpa de Dios. Todos hemos escuchado o leído sobre políticos que dicen que son católicos o cristianos practicantes, pero que apoyan públicamente leyes que van directamente en contra de algunos de los principios más básicos de la moralidad, tal como los enseña la Iglesia Católica o nuestra fe cristiana universal. Nuestras palabras como católicos y cristianos deben estar respaldadas por acciones que estén en línea con los mandamientos de Dios. Esa es la diferencia entre el primer hijo y el segundo. El primer hijo dio un giro en U respaldado por la acción, mientras que el segundo hijo dijo palabras que carecían de acciones de seguimiento.
Si somos honestos con nosotros mismos, incluso reconocemos en nuestras propias vidas esta misma tendencia. Nos llamamos católicos practicantes y, sin embargo, pasamos más tiempo trabajando en nuestros pasatiempos favoritos que en nuestra vida de oración. Pasamos más tiempo convirtiéndonos en expertos en nuestra profesión que en nuestra fe. Toleramos en nuestras propias vidas hábitos ocultos de egoísmo y pecado mientras criticamos a otras personas por sus faltas más visibles. Por eso muchas tradiciones católicas fomentan un examen de conciencia diario, reflexionando sobre nuestras palabras, acciones y motivaciones. Si lo pensamos un poco, vemos con más claridad las contradicciones entre lo que creemos y cómo vivimos. El crecimiento en esto es si estamos en el camino correcto, para continuar perseverando, y si estamos en el camino equivocado, para hacer un cambio de sentido.
Finalmente, Jesús nos enseña en Mateo 5:37, "Que tu 'Sí' signifique 'Sí', y tu 'No' signifique 'No'. Cualquier otra cosa es del maligno". Y en Juan 8:32, dice: "Conocerás la verdad, y la verdad te hará libre". Que seamos personas íntegras cuyo sí significa sí y no significa no. Que seamos fieles a nuestros
llamamientos y responsabilidades.
Algunas tareas de limpieza:
¡Gracias por su generoso apoyo, ya que pudimos superar nuestra meta financiera para las colecciones de Jubilación de sacerdotes! Que el Señor Jesucristo te recompense por la mayordomía de tus tesoros. Todos ustedes merecen un gran aplauso.
Fr. Paul Asoh, MSP, Pastor