Dear Parish Family,
The Beatification of Carlo Acutis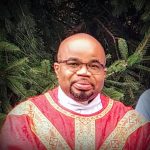 The tomb of Carlo Acutis was opened on the morning of October 3rd, 2020, in Assisi after the Holy Mass officiated by the Bishop of the Diocese. The body of Carlo Acutis was found intact and near incorrupt, after 10 years of burial and has been put on public display for the edification of our faith and the glory of God.
For the first time in history we saw a saint dressed in jeans, sneakers and a hoody. The theme for this year's Eucharistic Congress is "Be Holy." Holiness is not a distant thing but very much within our reach because the Lord is for everyone and calls out to each of us to be Holy and perfect as he is Holy.
Carlo Acutis was an Italian Roman Catholic teenager. The Catholic News Agency (CNA) says this of him: "Carlo loved playing video games. His console of choice was a Playstation, or possibly a PS2, which was released in 2000, when Carlo was nine. We know he only allowed himself to play games for an hour a week, as a penance and a spiritual discipline, but he wanted
to play much more." He was also a computer programmer as a young teenager. Carlo's parents were not very devout, his mom would testify that before Carlos, she only remembered going to Mass for her first Holy communion, Confirmation and her wedding day. But little Carlo had a deep love for God from an early age and this devotion bore fruit. His witness of faith led to a deep conversion in his mom, because, according to the priest promoting his cause for sainthood, he "managed to drag his relatives, his parents to Mass every day. It was not the other way around; it was not his parents bringing the little boy to Mass, but it was he who managed to get himself to Mass and to convince others to receive Communion daily." He would say in receiving Communion regularly, one became more like Christ. He was known for defending kids at school who got picked on, especially disabled kids. When he was diagnosed with leukemia, he was intentional about offering his pain for the intentions of the Church, the Pope and all those who were suffering from one disease or the other.
He was best known for documenting Eucharistic miracles around the world and cataloging them all onto a website that he himself created in the months before his death from leukemia. Last month during the Diocesan and Parish Eucharistic Congress, I gave a talk about the miracles of the Holy Eucharist which have increased in frequency during the last few decades. All inviting us to deeper faith in the real presence of Jesus Christ in the Eucharist.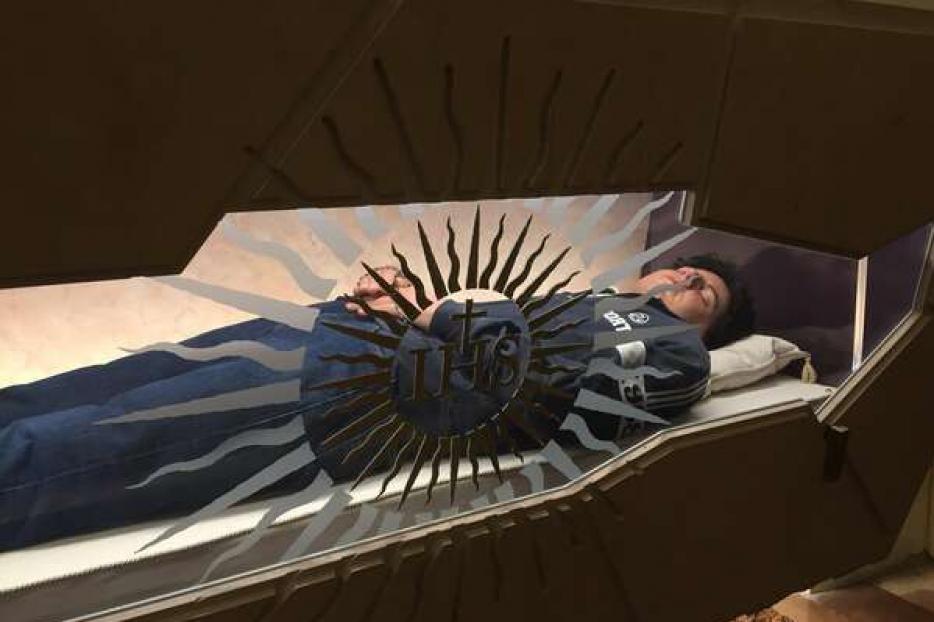 Carlo Acutis was beatified at the Papal Basilica of St. Francis of Assisi less than 24 hours ago, on Saturday, October 10, 2020 at 4 P.M. Cardinal Giovanni Angelo Becciu, Prefect of the Congregation for the Causes of Saints, presided over the beatification ceremony. Please feel free to ask for his intercession as one who lived within our very recent past, and a reminder that there is the potential for Sainthood in each of us and a strong model for our youth and teenagers on how to make good use of the social media and our smart phones. Above is a some pictures of his displayed near uncorrupted body after his grave was opened.
Source: Catholic News Agency, Denver.
Fr. Paul Asoh, MSP, Pastor
---
Querida familia parroquial:
Beatificación de Carlo Acutis
La tumba de Carlo Acutis se abrió la mañana del 3 de octubre de 2020 en Asís después de la Santa Misa oficiada por el Obispo de la Diócesis. El cuerpo de Carlo Acutis fue encontrado intacto y casi incorrupto, después de 10 años de entierro y ha sido puesto en exhibición pública para la edificación de nuestra fe y la gloria de Dios.
Por primera vez en la historia vimos a un santo vestido con jeans, zapatillas y una sudadera con capucha. El tema del Congreso Eucarístico de este año es "Sed santos". La santidad no es una cosa lejana, pero está muy a nuestro alcance porque el Señor es para todos y nos llama a cada uno de nosotros a ser Santos y perfectos como Él es Santo.
Carlo Acutis era un adolescente católico romano italiano. La Agencia Católica de Noticias (CNA) dice esto de él: "A Carlo le encantaba jugar videojuegos. Su consola preferida fue una Playstation, o posiblemente una PS2, que se lanzó en 2000, cuando Carlo tenía nueve años. Sabemos que solo se permitía jugar una hora a la semana, como penitencia y disciplina
espiritual, pero quería jugar mucho más ". También fue programador de computadoras cuando era adolescente. Los padres de Carlo no eran muy devotos, su mamá testificaría que antes de Carlos, solo recordaba haber ido a misa para su primera comunión, la Confirmación y el día de su boda.
Pero el pequeño Carlo tuvo un profundo amor por Dios desde una edad temprana y esta devoción dio sus frutos. Su testimonio de fe llevó a una profunda conversión en su mamá, porque, según el sacerdote impulsor de su causa de santidad, "logró arrastrar a sus familiares, a sus padres a misa todos los días. No fue al revés; no fueron sus padres quienes llevaron al
niño a misa, sino que fue él quien logró ir a misa y convencer a los demás de recibir Comunión diaria ". Diría que al recibir la Comunión con regularidad, uno se vuelve más como Cristo. Era conocido por defender a los niños en la escuela que eran molestados, especialmente a los niños discapacitados. Cuando le diagnosticaron leucemia, tenía la intención de ofrecer su dolor por las intenciones de la Iglesia, del Papa a todos los que padecían una enfermedad u otra.
Era más conocido por documentar milagros eucarísticos en todo el mundo y catalogarlos todos en un sitio web que él mismo creó en los meses previos a su muerte por leucemia. El mes pasado, durante el Congreso Eucarístico Diocesano y Parroquial, di una charla sobre los milagros de la Sagrada Eucaristía, que han aumentado en frecuencia durante las últimas décadas. Todos invitándonos a una fe más profunda en la presencia real de Jesucristo en la Eucaristía.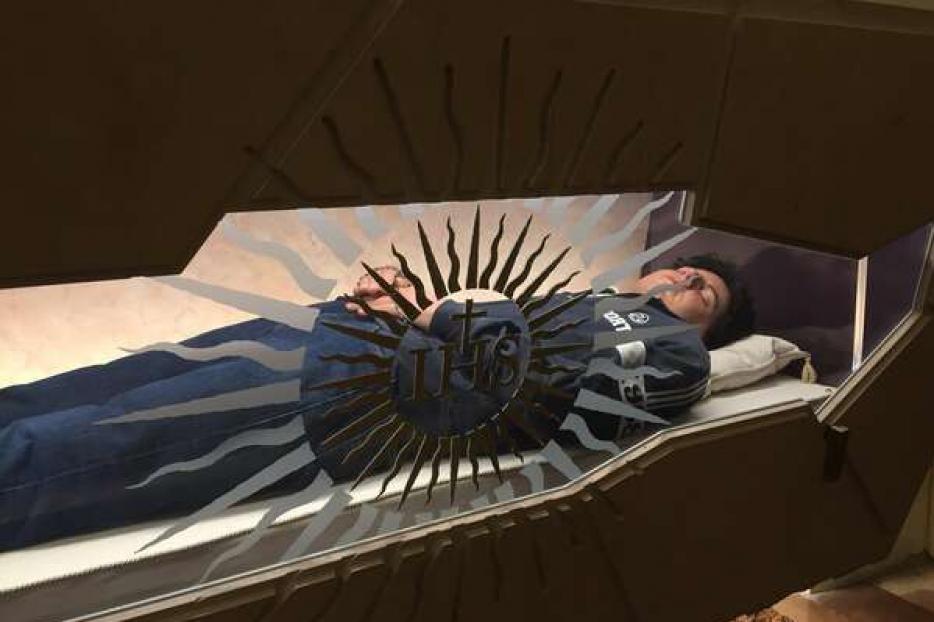 Carlo Acutis fue beatificado en la Basílica Papal de San Francisco de Asís hace menos de 24 horas, el sábado 10 de octubre de 2020 a las 4 de la tarde. El cardenal Giovanni Angelo Becciu, prefecto de la Congregación para las Causas de los Santos, presidió la ceremonia de beatificación. Por favor, siéntase libre de pedir su intercesión como alguien que vivió dentro de
nuestro pasado muy reciente, y un recordatorio de que existe el potencial para la santidad en cada uno de nosotros y un modelo sólido para nuestros jóvenes y adolescentes sobre cómo hacer un buen uso de las redes sociales. medios y nuestros teléfonos inteligentes. Arriba se muestran algunas fotografías de su cuerpo casi incorrupto después de que se abriera su tumba.
Fuente: Agencia Católica de Noticias, Denver.
Fr. Paul Asoh, MSP, Pastor