Dear Parish Family,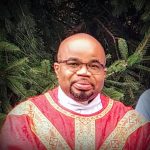 According to Guinness World Records, the greatest fully authenticated age to which any human has ever lived is 122 years (Jeanne Louise Calment, 1875 – 1997 in France). This is nothing compared to eternity. The readings today teach us that we need wisdom to live our earthly life to prepare for eternal life. The first reading invites us to embrace the wisdom from God that seeks us out. The wisdom of God helps to be prudent, to be ready spiritually; to know when silence is golden and when not to speak would be akin to the sin of omission. Most especially as we pray for our dead this month of November, we have to be ready ourselves as the Gospel reminds us of being prepared for death whenever Christ calls us to himself or His triumphant return to the earth.
Scripture tell us that while God is a consuming fire, He is also a merciful and a just judge. That is why the Word of God advices us to be ready. Our readiness must be such that our words, actions, and lives cooperate with the grace of God that gets us into heaven. We should be prepared and aim for Heaven, so that if we fall short due to some of our weaknesses, the purifying fire of God's love and mercy will cleanse us in Purgatory.
The Catholic Church, through the inspiration of the Holy Spirit, believes that there is such a place as purgatory (a house of purgation, purification or atonement), where holy souls, who are supposed to enter heaven but for a few small stains of sin (s), are kept until they have been completely washed perfectly clean, before they can be admitted to Heaven to behold the presence and glory of God.
There are a few Scriptural passages which supports this believe, namely in 2Maccabees 12:38-45, Judas Maccabeus asked the people to pray for the fallen soldiers that God may grant them a merciful judgment. Also, in 2 Tim. 1:18, St. Paul offered prayer for Onesiphorus, that God may grant him mercy. The Catechism of the Catholic Church also has something to say about prayers for the dead, when it states that: "All who die in God's grace and friendship, but still imperfectly purified, are indeed assured of their eternal salvation; but after death they undergo purification, so as to achieve that holiness necessary to enter the joy of heaven" (CCC. Art. 1030). To further show the belief in praying for the dead is rooted in the practice of the Church from earliest times, there are historical document which shows that the Christians often gather at the Roman catacombs where early Christians Apostles and martyrs were buried, to offer prayer for their atonement and to ask for their blessings.
We owe an obligation to pray for our departed loved ones and the souls in Purgatory, but we also owe ourselves an obligation to be ready whenever God calls us to a new life.
Fr. Paul Asoh, MSP
Pastor
Father's Housekeeping Comments:
There is a second collection today in support of the Seminary and the Seminarians Education for the Diocese of Charlotte.
We will be having our annual blessing of animals and Pets in the Parish after next Saturday's Mass on the 14th by 10:00 am. God created all the animals and found them to be very good
---
Querida familia parroquial:
Según Guinness World Records, la mayor edad plenamente autenticada a la que ha vivido un ser humano es de 122 años (Jeanne Louise Calment, 1875-1997 en Francia). Esto no es nada comparado con la eternidad. Las lecturas de hoy nos enseñan que necesitamos sabiduría para vivir nuestra vida terrenal y prepararnos para la vida eterna. La primera lectura nos invita a
abrazar la sabiduría de Dios que nos busca. La sabiduría de Dios ayuda a ser prudentes, a estar preparados espiritualmente; saber cuándo el silencio es de oro y cuándo no hablar sería parecido al pecado de la omisión. Más especialmente cuando oramos por nuestros muertos este mes de noviembre, tenemos que estar preparados nosotros mismos, ya que el Evangelio nos recuerda que debemos estar preparados para la muerte cada vez que Cristo nos llame a sí mismo o Su regreso triunfal a la tierra.
Las Escrituras nos dicen que, si bien Dios es fuego consumidor, también es un juez misericordioso y justo. Por eso la Palabra de Dios nos aconseja estar preparados. Nuestra preparación debe ser tal que nuestras palabras, acciones y vidas cooperen con la gracia de Dios que nos lleva al cielo. Debemos estar preparados y apuntar al cielo, de modo que si nos quedamos cortos debido a algunas de nuestras debilidades, el fuego purificador del amor y la misericordia de Dios nos limpie en el Purgatorio.
La Iglesia Católica, por inspiración del Espíritu Santo, cree que existe un lugar como el purgatorio (una casa de purificación, purificación o expiación), donde las almas santas, que se supone que deben entrar al cielo pero por unas pequeñas manchas de pecado. (s), se guardan hasta que hayan sido completamente lavados y perfectamente limpios, antes de que puedan ser admitidos en el cielo para contemplar la presencia y la gloria de Dios.
Hay algunos pasajes bíblicos que apoyan esta creencia, a saber, en 2Macabeos 12: 38-45, Judas Macabeo pidió a la gente que orara por los soldados caídos para que Dios les conceda un juicio misericordioso. Además, en 2 Tim. 1:18, San Pablo ofreció oración por Onesíforo, para que Dios le conceda misericordia. El Catecismo de la Iglesia Católica también tiene algo que decir sobre las oraciones por los muertos, cuando dice que: "Todos los que mueren en la gracia y la amistad de Dios, pero aún imperfectamente purificados, tienen ciertamente asegurada su salvación eterna; pero después de la muerte se someten a una purificación, para alcanzar esa santidad necesaria para entrar en el gozo del cielo "(CIC. Art. 1030). Para mostrar aún más que la creencia en la oración por los muertos está arraigada en la práctica de la Iglesia desde los tiempos más remotos, existen documentos históricos que muestran que los cristianos a menudo se reúnen en las catacumbas romanas donde fueron enterrados los primeros cristianos apóstoles y mártires, para ofrecer oración por su expiación y pedir sus bendiciones.
Tenemos la obligación de orar por nuestros seres queridos que han fallecido y las almas del Purgatorio, pero también tenemos la obligación de estar preparados cuando Dios nos llame a una nueva vida.
Fr. Paul Asoh, MSP
Pastor
Comentarios de limpieza del padre:
Hoy hay una segunda colecta en apoyo del Seminario y la Educación de los seminaristas de la Diócesis de Charlotte.
Tendremos nuestra bendición anual de animales y mascotas en la parroquia después de la misa del próximo sábado 14 a las 10:00 am. Dios creó a todos los animales y encontró que eran muy buenos.