Pastor:
Rev. Casey A. Coleman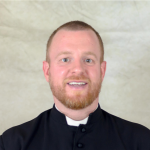 Born in Dayton, OH, Father Coleman grew up around Winston-Salem and Charlotte, NC. He graduated from NC State with a degree in Mechanical Engineering and worked for Corning Cable Systems before entering St. Charles Borromeo seminary in 2009. He was ordained to the priesthood in 2015 and served for two years as Parochial Vicar at St. Vincent de Paul parish in Charlotte before being installed as pastor of St. Mary, Mother of God, in Sylva in 2017.
Email: cacoleman@charlottediocese.org
 Deacon:
Rev. Mr. Matthew Newsome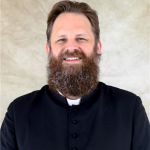 Deacon Matt was born in Charlotte, NC, and moved to Sylva after high school. He attended college at Warren Wilson College and Western Carolina University, where he graduated in 1999 with a degree in English Literature. He earned a Masters of Theology degree from Holy Apostles College in 2008 and was ordained to the diaconate in 2018. He is an adult convert, having been baptized at St. Mary's in 2000. He has been serving as the Catholic campus minister at Western Carolina University since 2008. He and his wife, Joannie, have six children.
Email: ccm@wcucatholic.org



Executive Assistant to the Pastor:
Ms. Della Sue (Susie) Bryson
Phone: (828) 586-9496
Email: dsbryson@charlottediocese.org
Coordinator of Faith Formation:
Mrs. Luci Castillo
Email: lbohorquezpacheco@charlottediocese.org
Youth Ministry & Activities Coordinator:
Volunteer Currently Needed
Email: sylvaymc@gmail.com
RCIA Coordinator:
Mr. Mike Ensley
Email: mikeensley1@gmail.com
WCU Campus Minister:
Rev. Mr. Matthew Newsome
Phone: (828) 293-9374
Email: ccm@wcucatholic.org
Website: www.WCUCatholic.org


PARISH COUNCIL CHAIR: Dr. Rick Beauchemin
FINANCE COUNCIL CHAIR: Jan Chervenak
KNIGHTS OF COLUMBUS: David Karuru, Grand Knight
HISPANIC MINISTRY COORDINATORS: Alma and Eleazar Flores; Martha and Javier Leon
CATHOLIC DAUGHTERS OF THE AMERICAS:
RESPECT LIFE COMMITTEE CHAIR: Carla Haire
LAY CARMELITES: Jane Sullivan