---
15th Sunday of Ordinary Time Weekend Masses: July 11th – 12th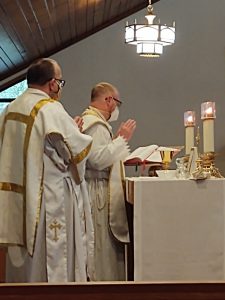 Sunday Masses will be INSIDE. Please note that there are two sections for each Mass: 1st: Inside the Church with a mask and 2nd: Inside the Fellowship Hall without a mask, More details on the sign up page.
---
Click here for the Liturgical Schedule & Protocols for Mass.
Click here to sign up for Weekend Mass.
For our weekend Masses we ask that when you arrive that you follow all the directives of the ushers that will be given as to seating for Mass. The ushers have been instructed on where to seat individuals/parishioners strategically based on number in the household. This may require an occasional need for individuals/parishioners to be shifted dependent on needing even after first being seated. This is to maintain safe practices for the celebration of indoor Mass.
We ask that in advance of arriving, please review materials/directives that are provided and follow them as best you can. If you have a particular concern please let us know by calling the office or make an appointment to talk with us. These different materials will be emailed, on the Web Page or in the pews so please review them.
We know that moving forward to inside will have some challenges and possible issues to work out. We ask for everyone's charity and to be patient with us as we step through these processes together as a community.
Please look for more directives in this week's bulletin: From the Pastor's Desk.
Thank you and God Bless, Susie Bryson, executive assistant, on behalf of Fr. Casey Coleman, Pastor