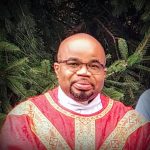 Dear Parish Family,
Today is the second collection for the priest retirement fund and I would like to provide some facts for you as you consider making a contribution.
A total of 29 retired diocesan priests currently receive benefits and 107 other diocese and religious order priests in active ministry.
A contribution will be made to the retirement funds of the eight religious orders serving the Diocese of Charlotte.
There are currently 23 religious order priests for whom contributions will be made.
The total assessed amount to fund the priests' retirement and benefits program for 2020 is $1,300,000. That amount is broken down as follows:

69% for pension contributions for diocesan priests' retirement plans and retirement benefits expense for retired diocesan priests' health plan
22% for pension contributions for religious order priests' retirement plans
6% for administrative fees
3% for fundraising costs

The amount assessed each parish is 2.3% of their annual offertory income. In most parishes, the assessment amounts to 20% more than the weekly Sunday offertory. After the close of Vatican II, the Diocese of Raleigh adopted a retirement plan for its priests, which included a yearly assessed collection to fund the plan. When the Diocese of Charlotte was established in 1972, one-half of the funds collected to that date were turned over to the new diocese. The assessed collection, amounting to 2% of the total parish offertory, added to the fund each year, allowing the fund to grow. This was strictly for priests' retirement. It wasn't until the 1980's that benefits were added to the plan.
The Priests' Retirement and Benefits Collection helps provide for the future retirement of those priests who are currently working, ensuring the funds will be available when a priest becomes eligible for retirement benefits.
As a matter of housekeeping, we will soon be using the baskets with handles for the collection as best practices at offertory time.
Fr. Paul Asoh, MSP, Pastor
---
Querida familia parroquial:
Hoy es la segunda recaudación para el fondo de jubilación para sacerdotes y me gustaría brindarle algunos datos mientras considera hacer una contribución.
Un total de 29 sacerdotes diocesanos jubilados actualmente reciben beneficios y 107 otros de diócesis y órdenes religiosas en activo ministerio sacerdotes diocesanos en ministerio activo.
Se hará una contribución a los fondos de jubilación de las ocho órdenes religiosas que sirven a la Diócesis de Charlotte.
Actualmente hay 23 sacerdotes de órdenes religiosas para quienes se harán contribuciones.
El monto total estimado para financiar el programa de jubilación y beneficios de los sacerdotes para 2020 es de $ 1,300,000. Esa cantidad se desglosa de la siguiente manera:

69% para contribuciones de pensión para planes de jubilación de sacerdotes diocesanos y gastos de beneficios de jubilación para el plan de salud de sacerdotes diocesanos jubilados
22% para contribuciones de pensión para planes de jubilación de sacerdotes de órdenes religiosas
6% por gastos administrativos
3% para costos de recaudación de fondos

La cantidad tasada en cada parroquia es el 2.3% de sus ingresos anuales del ofertorio. En la mayoría de las parroquias, la contribución asciende a un 20% más que el ofertorio dominical semanal. Después del cierre del Vaticano II, la Diócesis de Raleigh adoptó un plan de jubilación para sus sacerdotes, que incluía una recaudación anual evaluada para financiar el plan. Cuando se estableció la Diócesis de Charlotte en 1972, la mitad de los fondos recaudados hasta esa fecha fueron entregados a la nueva diócesis. La recaudación tasada, que asciende al 2% del total del ofertorio parroquial, se suma al fondo cada año, lo que permite que el fondo crezca. Esto fue estrictamente para la jubilación de los sacerdotes. No fue hasta la década de 1980 que se agregaron beneficios al plan.
La Colección de Beneficios y Jubilación de Sacerdotes ayuda a prever la jubilación futura de aquellos sacerdotes que están trabajando actualmente, asegurando que los fondos estarán disponibles cuando un sacerdote sea elegible para los beneficios de jubilación.
Como cuestión de limpieza, pronto utilizaremos las cestas con asas para la recolección como mejores prácticas a la hora del ofertorio.
Fr. Paul Asoh, MSP, Pastor