A WEEK OF MARIAN SOLEMNITY, MEMORIAL, FEAST AND AN INSTITUTION OF THE YEAR OF ST. JOSEPH BY THE UNIVERSAL CHURCH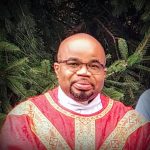 Dear Parish Family,

Last week the second week of Advent was a great and unique Liturgical week of Marian veneration and celebrations, beginning with the Solemnity of The Immaculate Conception of the Blessed Virgin Mary, followed by the memorial on Thursday of Our Lady of Loreto, which has been celebrated since the middle ages but instituted by Pope Francis on October 31st, 2019.
The Marian celebrations culminated this weekend with the celebration of the feast of Our Lady of Guadalupe. Marian Feasts have played a great role in my journey to the Priesthood, as I took my first Oath of membership of the Missionary Society of St. Paul on December 8th, 1995 and subsequent renewals of vows during the celebrations of the Solemnity of the Immaculate Conception of the Blessed Virgin Mary. In the Statue of Our Lady of Guadalupe, she is the woman who crushes the head of the stone serpent who induced the fall of Man and woman at the beginning of creation in Genesis. Her apparition to Juan Diego in Mexico in the sixteenth century just after the devastation of the Spanish Conquistadors led to the conversion of most parts of the Americas, which is why She is venerated and celebrated as the Patroness of the Americas. The readings of the Solemnity of the Immaculate Conception and Feast of Our Lady of Guadalupe presents the great role the Blessed Virgin Mary played in God's intervention in human history through our Lord Jesus Christ our Savior.
On December 8, 1854, Pope Pius IX proclaimed the Dogma of the Immaculate Conception. He announced, "We declare, pronounce and define that the doctrine which asserts that the Blessed Virgin Mary, from the first moment of her conception, by a singular grace and privilege of Almighty God, and in view of the merits of Jesus Christ, savior of the human race, was
preserved free from every stain of original sin, is a doctrine revealed by God and, for this reason, must be firmly and constantly believed by all the faithful."
This truth is what we celebrate during The Solemnity of the Immaculate Conception of our Mother Mary. The feast occurs every December 8. It is a celebration of the mystery of Mary born without the stain of original sin, in preparation to become the mother of our Lord Jesus Christ. This is a singular grace and privilege given to Mary by God from the moment of her
conception.
The first reading of the Solemnity from Genesis 3 is the story of the fall of man, the fall of Adam. Following the realization of their sin, Adam and Eve became aware of their nakedness. When they heard God in the garden, they were afraid, they ran and hid themselves. Therefore, sin exposes us; it makes us realize how naked we are; it sows in us, fear and pushes us away
from God; it makes us want to hide from him. Sin does no good to no one: both man, woman and serpent became accursed. The battle between good and evil is foreseen. "I will put enmity," God declares, "between you and the woman, and between your offspring and hers; he will strike your head, and you will strike his heel." Good at the end, however, will always triumph. Now, the Hebrew word for Eve is Havah. It is connected to the word Hayah which means living and Hay, which means Life. Eve was so named because she became the mother of all the living. But because of the fall, however, death came. In Mary, new life is born; hence she becomes the new Eve, the new Havah.
In the gospel, God unveils His choice of the New Eve, to undo the failure of the First Eve. Mary, therefore, becomes the mother of the Messiah, the offspring who will crush the head of the serpent. She becomes the mother of the new people of God. The first word of the Angel to Mary was Chaire (pronounced Kai-reh). This is a special greeting which means "rejoice, be glad, be delighted or hail." The imperative chaire was used in the sense of God doing something special for his people (cf. Zeph. 3:14, Zech. 9:9; Joel 2:21; Matt. 26:49). The special and unique message from God to Mary is that through the Holy Spirit, she will conceive and bear a Son, the Son of God, whose name would be Jesus. Mary was so chosen because God highly favored her. The angel said, "Hail, highly favored one … you have found favor with God."
Mary's response to the message of God reveals a young girl who was completely dedicated to the will of God. she says, "I am the handmaid of the Lord, let what you have said be done." Although she was prepared at conception for this moment, she however still cooperated with the grace of God in her. Hence, she becomes an example of holiness and absolute reliance on God and His Spirit. So, we are reminded of our call in Christ to be holy and blameless like Mary is through her association with Christ. Despite the challenge of sin as was experienced by Eve, if we commit ourselves to associate with Christ and his mission, sin cannot have the last word. God desires us in Christ Jesus to be His sons and daughters. He is willing and able to restore us to his original plan for us, which is that we should be holy and blameless, and live for his praise and glory.
Last week, during the Solemnity on December 8, the Holy father Pope Francis instituted a new Year of St. Joseph for the universal Church. The Diocese of Charlotte through the guidance of Bishop Peter Jugis is already celebrating the Year of St. Joseph beginning last year and extending, but with the report from Vatican News, we now join with the universal Church.
Pope Francis last Tuesday also announced a special year dedicated to St. Joseph starting from 8 December 2020 until 8 December 2021, on the occasion of the 150thanniversary of the proclamation of St. Joseph as the Patron of the Universal Church, as well as the Solemnity of the Immaculate Conception of Our Lady.
The Apostolic Penitentiary also issued a decree granting special indulgences for the duration of the special year to celebrate the anniversary and "to perpetuate the entrustment of the whole Church to the powerful patronage of the Custodian of Jesus." The plenary indulgence is granted to the faithful under the usual conditions (sacramental confession, Eucharistic Communion, and prayer for the Pope's intentions) to Christians who, with a spirit detached from any sin, participate in the Year of St. Joseph on these occasions and manners indicated by the Apostolic Penitentiary: The plenary indulgence is granted to those who will meditate for at least 30 minutes on the Lord's Prayer, or take part in a Spiritual Retreat of at least one day that includes a meditation on St. Joseph. "St. Joseph, an authentic man of faith, invites us", the decree reads, "to rediscover our filial relationship with the Father, to renew fidelity to prayer, to listen and correspond with profound discernment to God's will."
The indulgence can also be obtained by those who, following St. Joseph's example, will perform a spiritual or corporal work of mercy. St. Joseph "encourages us to rediscover the value of silence, prudence and loyalty in carrying out our duties," the decree notes. The recitation of the Holy Rosary in families and among engaged couples is another way of obtaining indulgences, in order that "all Christian families may be stimulated to recreate the same atmosphere of intimate communion, love and prayer that was in the Holy Family." (Vatican News)
Housekeeping Items
Please anyone wishing to continue to use offertory envelopes to contact Ellen by (phone, email, or note in the offertory basket). She will be contacting those who use these envelopes weekly.
Please sign up now for Christmas Masses so we are able to better manage capacity.
Gratefully yours in Christ,
Fr. Paul Asoh, MSP
Pastor
---
Querida familia parroquial:
La semana pasada, la segunda semana de Adviento fue una gran y única semana litúrgica de veneración y celebraciones marianas, comenzando con la Solemnidad de la Inmaculada Concepción de la Santísima Virgen María, seguida de la memoria el jueves de Nuestra Señora de Loreto, que se ha celebrado. desde la Edad Media pero instituido por el Papa Francisco el 31
de octubre de 2019. Las celebraciones marianas culminaron este fin de semana con la celebración de la fiesta de Nuestra Señora de Guadalupe. Las Fiestas Marianas han jugado un gran papel en mi camino hacia el Sacerdocio, ya que hice mi primer Juramento como miembro de la Sociedad Misionera de San Pablo el 8 de diciembre de 1995 y las posteriores renovaciones de votos durante las celebraciones de la Solemnidad de la Inmaculada Concepción. de la Santísima Virgen María. En la Estatua de Nuestra Señora de Guadalupe, ella es la mujer que aplasta la cabeza de la serpiente de piedra que indujo la caída del Hombre y la mujer al inicio de la creación en Génesis. Su aparición a Juan Diego en México en el siglo XVI,
justo después de la devastación de los conquistadores españoles, llevó a la conversión de la mayor parte de las Américas, razón por la cual es venerada y celebrada como la Patrona de las Américas. Las lecturas de la Solemnidad de la Inmaculada Concepción y la Fiesta de Nuestra Señora de Guadalupe presentan el gran papel que jugó la Santísima Virgen María en la intervención de Dios en la historia humana a través de nuestro Señor Jesucristo nuestro Salvador.
El 8 de diciembre de 1854, el Papa Pío IX proclamó el Dogma de la Inmaculada Concepción. Anunció: "Declaramos, pronunciamos y definimos que la doctrina que afirma que la Santísima Virgen María, desde el primer momento de su concepción, por singular gracia y privilegio de Dios Todopoderoso, y en vista de los méritos de Jesucristo, salvador del género humano, fue preservada libre de toda mancha del pecado original, es una doctrina revelada por Dios y, por eso, debe ser creída firme y constantemente por todos los fieles".
Esta verdad es la que celebramos durante la Solemnidad de la Inmaculada Concepción de nuestra Madre María. La fiesta ocurre cada 8 de diciembre. Es una celebración del misterio de María nacida sin la mancha del pecado original, en preparación para convertirse en la madre de nuestro Señor Jesucristo. Esta es una gracia y un privilegio singular que Dios le dio a María desde el momento de su concepción.
La primera lectura de la Solemnidad de Génesis 3 es la historia de la caída del hombre, la caída de Adán. Después de darse cuenta de su pecado, Adán y Eva se dieron cuenta de su desnudez. Cuando oyeron a Dios en el jardín, tuvieron miedo, corrieron y se escondieron. Por tanto, el pecado nos expone; nos hace darnos cuenta de lo desnudos que estamos; nos siembra temor y nos aleja de Dios; nos hace querer escondernos de él. El pecado no le hace bien a nadie: tanto el hombre como la mujer y la serpiente fueron malditos. Se prevé la batalla entre el bien y el mal. "Pondré enemistad", declara Dios, "entre tú y la mujer, y entre tu descendencia y la de ella; él te golpeará la cabeza y tú le golpearás el talón ". Lo bueno al final, sin embargo, siempre triunfará. Ahora, la palabra hebrea para Eva es Havah. Está conectado con la palabra Hayah que significa vivir y Hay, que significa Vida. Eva se llamó así porque se convirtió en la madre de todos los vivos. Pero debido a la caída, sin embargo, llegó la muerte. En María nace una nueva vida; por lo tanto, ella se convierte en la nueva Eva, la nueva Havah.
En el evangelio, Dios revela Su elección de la Nueva Eva, para deshacer el fracaso de la Primera Eva. María, por tanto, se convierte en la madre del Mesías, la descendencia que aplastará la cabeza de la serpiente. Ella se convierte en la madre del nuevo pueblo de Dios. La primera palabra del ángel a María fue Chaire (pronunciado Kai-reh). Este es un saludo especial
que significa "regocíjate, alégrate, alégrate o saluda". La silla imperativa se usó en el sentido de que Dios estaba haciendo algo especial por su pueblo (cf. Sof. 3:14, Zac. 9: 9; Joel 2:21; Mat. 26:49). El mensaje especial y único de Dios a María es que a través del Espíritu Santo, ella concebirá y dará a luz un Hijo, el Hijo de Dios, cuyo nombre sería Jesús. María fue elegida así
porque Dios la favoreció mucho. El ángel dijo: "Dios te salve, muy favorecido … has hallado gracia ante Dios".
La respuesta de María al mensaje de Dios revela a una joven que estaba completamente dedicada a la voluntad de Dios. ella dice: "Soy la esclava del Señor, hágase lo que has dicho". Aunque estaba preparada en el momento de la concepción para este momento, todavía cooperaba con la gracia de Dios en ella. Por lo tanto, se convierte en un ejemplo de santidad y absoluta confianza en Dios y su Espíritu. Entonces, recordamos nuestro llamado en Cristo a ser santos y sin mancha como lo es María a través de su asociación con Cristo. A pesar del desafío del pecado que experimentó Eva, si nos comprometemos a asociarnos con Cristo y su misión, el pecado no puede tener la última palabra. Dios desea que en Cristo Jesús seamos sus hijos e hijas. Él está dispuesto y es capaz de restaurarnos a su plan original para nosotros, que es que seamos santos y sin mancha, y vivamos para su alabanza y gloria.
La semana pasada, durante la Solemnidad del 8 de diciembre, el Santo Padre Francisco instituyó un nuevo Año de San José para la Iglesia universal. La Diócesis de Charlotte, con la guía del obispo Peter Jugis, ya está celebrando el Año de San José a partir del año pasado y se extiende, pero con el informe de Vatican News, ahora nos unimos a la Iglesia universal. El Papa Francisco anunció el martes pasado también un año especial dedicado a San José a partir del 8 de diciembre de 2020 hasta el 8 de diciembre de 2021, con motivo del 150 aniversario de la proclamación de San José como Patrón de la Iglesia Universal, así como la Solemnidad. de la Inmaculada Concepción de Nuestra Señora.
La Penitenciaría Apostólica también emitió un decreto concediendo indulgencias especiales durante el año especial para celebrar el aniversario y "perpetuar la encomienda de toda la Iglesia al poderoso patrocinio del Custodio de Jesús". La indulgencia plenaria se concede a los fieles en las condiciones habituales (confesión sacramental, comunión eucarística y oración por las intenciones del Papa) a los cristianos que, con espíritu desprendido de cualquier pecado, participan en estas ocasiones en el Año de San José y Modales indicados por la Penitenciaría Apostólica: La indulgencia plenaria se concede a quienes mediten durante al menos 30 minutos en el Padrenuestro, o participen en un Retiro Espiritual de al menos un día que incluya una meditación sobre San José. "S t. José, auténtico hombre de fe, nos invita", reza el decreto," a redescubrir nuestra relación filial con el Padre, a renovar la fidelidad a la oración, a escuchar y corresponder con profundo discernimiento a la voluntad de Dios ". (Vatican News)
Artículos de limpieza
Por favor, cualquier persona que desee continuar usando los sobres de ofertorio para comunicarse con Ellen por (teléfono, correo electrónico o nota en la canasta de ofertorio). Se pondrá en contacto semanalmente con quienes utilicen estos sobres.
Regístrese ahora para las misas de Navidad para que podamos administrar mejor la capacidad.
Agradecido tuyo en Cristo,
Pastor, Fr. Paul Asoh, MSP