Dear Parish Family,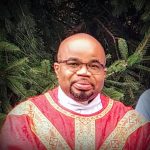 As we continue to be impacted by the coronavirus outbreak, may you be comforted, and experience hope through your relationship with Christ. In His love, our Lord offers us the opportunity to take time to strengthen our faith through attending Mass in person or viewing live streamed Masses, through more time in daily prayer, through spending time in Scripture. He also offers us the opportunity to look beyond ourselves and put our faith in action.
As we approach the celebration of the Birth of Christ at St Mary Mother of God, Sylva, I want to take this opportunity to thank each of you for the many ways you have shared your gifts of time, talent and treasure with our parish family during this challenging time. Your participation in the diverse works of our Church and community demonstrates that the light and love of the Christ Child shines brightly in our parish and throughout the community.
I am particularly grateful for our dedicated part time parish staff, lay ministers and dozens of volunteers who give generously of their time and talent to make great things happen here at St Mary's. You are a true gift to our parish family.
Recognizing that this is the season of gift-giving, beginning with Giving Tuesday, I am writing to ask you to prayerfully consider putting our parish on your year-end Christmas giving list. As we strive to meet the spiritual and pastoral needs of the parish family, we must also recognize the practical and financial needs of maintaining our parish on a day-to-day basis. With that objective, I appeal to each parishioner to help us raise the additional funds needed to meet our DSA goal and budget by the end of December.
In addition to helping your parish, a year-end gift will increase your charitable tax deductions for 2020. You may want to consider a gift in honor or memory of a loved one. A one-time cash gift can be placed in the regular offertory envelope or online. Should you wish to make a gift of appreciated stock or an IRA rollover, please contact the parish office or a member of the
Finance Council. Your financial advisor can help you determine the best type of year-end gift to meet your individual situation.
During this Advent Season, I ask you to spend some time reflecting on the many ways God has blessed you here at St Mary Mother of God parish even in this challenging time. Join me in a prayer of thanksgiving for the kind and supportive members of our parish who give us so much and in so many ways. Thank you for putting St Mary Mother of God, Sylva on your Christmas gift list, and be assured of my remembrance of you in my daily Mass.
Housekeeping Items
The Advent Penance Service takes place on Thursday December 10th between 6-8 pm. There will be a couple of Priests available. Please let us seize the opportunity to be reconciled with the Lord through the Sacrament of reconciliation as we prepare to celebrate Jesus Christ's Nativity.
There will be Vigil Mass for the Solemnity of the Immaculate Conception at 4 pm on Monday the 7th of December in English and at 6:30 pm bilingual on Tuesday the 8th of December.
The feast of Our Lady of Guadalupe takes place with Mass on Saturday the 12th of December at 10 am followed by Rosary procession around the neighborhood. Parishioners are please encouraged to attend as this will bring both our English and Spanish speaking brothers and sisters together in celebrating Our Blessed Mother. The 7 pm Spanish Mass that evening will be for the 3rd Sunday of Advent.
Please remember to schedule events, activities, or meetings on church grounds with the office if your organization or commission/committee would like to hold a limited in person event, meeting, or activity. Please submit requests in writing to the office to be approved by the pastor. You can fill out the form located on the Welcome Desk and place it in the holder provided.
Gratefully yours in Christ,
Fr. Paul Asoh, MSP
Pastor
---
Querida familia parroquial:
Mientras seguimos siendo impactados por el brote de coronavirus, que se sienta consolado y experimente la esperanza a través de su relación con Cristo. En Su amor, nuestro Señor nos ofrece la oportunidad de tomarnos un tiempo para fortalecer nuestra fe asistiendo a Misa en persona o viendo Misas transmitidas en vivo, pasando más tiempo en oración diaria, pasando
tiempo en las Escrituras. También nos ofrece la oportunidad de mirar más allá de nosotros mismos y poner nuestra fe en acción.
Al acercarnos a la celebración del Nacimiento de Cristo en Santa María Madre de Dios, Sylva, quiero aprovechar esta oportunidad para agradecer a cada uno de ustedes por las muchas formas en que han compartido sus dones de tiempo, talento y tesoro con nuestra familia parroquial durante este tiempo desafiante. Su participación en las diversas obras de nuestra Iglesia y comunidad demuestra que la luz y el amor del Niño Jesús brilla intensamente en nuestra parroquia y en toda la comunidad.
Estoy particularmente agradecido por nuestro dedicado personal parroquial de medio tiempo, ministros laicos y docenas de voluntarios que dan generosamente de su tiempo y talento para hacer que sucedan grandes cosas aquí en St Mary's. Eres un verdadero regalo para nuestra familia parroquial.
Reconociendo que esta es la temporada de entrega de regalos, comenzando con el martes de donaciones, les escribo para pedirles que consideren en oración poner nuestra parroquia en su lista de donaciones de Navidad de fin de año. Mientras nos esforzamos por satisfacer las necesidades espirituales y pastorales de la familia parroquial, también debemos reconocer las necesidades prácticas y financieras de mantener nuestra parroquia en el día a día. Con ese objetivo, hago un llamamiento a cada feligrés para que nos ayude a recaudar los fondos adicionales necesarios para cumplir con nuestra meta y presupuesto de DSA para fines de diciembre.
Además de ayudar a su parroquia, una donación de fin de año aumentará sus deducciones fiscales de caridad para el 2020. Es posible que desee considerar una donación en honor o en memoria de un ser querido. Se puede colocar un obsequio en efectivo por única vez en el sobre del ofertorio normal o en línea. Si desea hacer una donación de acciones apreciadas o una transferencia de IRA, comuníquese con la oficina parroquial o con un miembro del Consejo de Finanzas. Su asesor financiero puede ayudarlo a determinar el mejor tipo de regalo de fin de año para satisfacer su situación individual.
Durante esta temporada de Adviento, les pido que dediquen un tiempo a reflexionar sobre las muchas formas en que Dios los ha bendecido aquí en la parroquia de Santa María Madre de Dios, incluso en este momento desafiante. Únase a mí en una oración de acción de gracias por los amables y solidarios miembros de nuestra parroquia que nos dan tanto y de tantas maneras. Gracias por poner a Santa María, Madre de Dios, Sylva, en tu lista de regalos de Navidad, y puedes estar seguro de que te recordaré en mi misa diaria.
Artículos de limpieza
El Servicio de Penitencia de Adviento se lleva a cabo el jueves 10 de diciembre de 6 a 8 pm. Habrá un par de sacerdotes disponibles. Permítanos tener la oportunidad de reconciliarnos con el Señor a través del Sacramento de la reconciliación mientras nos preparamos para celebrar la Natividad de Jesucristo.
Habrá Misa de Vigilia por la Solemnidad de la Inmaculada Concepción a las 4 pm el lunes 7 de diciembre en inglés y a las 6:30 pm bilingüe el martes 8 de diciembre.
La fiesta de Nuestra Señora de Guadalupe se lleva a cabo con la Misa el sábado 12 de diciembre a las 10 am seguida de la procesión del Rosario por el barrio. Se anima a los feligreses a asistir, ya que esto traerá a nuestros hermanos y hermanas de habla inglesa y española a celebrar a Nuestra Santísima Madre. La misa en español de las 7 pm esa noche será para el tercer domingo de Adviento.
Recuerde programar eventos, actividades o reuniones en los terrenos de la iglesia con la oficina si su organización o comisión / comité desea realizar un evento, reunión o actividad limitada en persona. Envíe las solicitudes por escrito a la oficina para que el pastor las apruebe. Puede completar el formulario ubicado en el mostrador de bienvenida y colocarlo en el soporte provisto.
Fr. Paul Asoh, MSP
Pastor