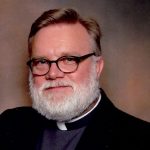 Effective August 11, 2021, Deacon Daniel Pyles has received faculties and been assigned as a Permanent Deacon to Saint Mary Mother of God parish in Sylva, North Carolina. Over the last few years, Deacon Pyles and his wife Beth entertained thoughts of retiring in the mountains of North Carolina. After Covid began, thoughts turned into reality as they bought and now reside in what they are considering their last home in Cullowhee, North Carolina.
Deacon Pyles was ordained on June 9, 2014, for the Diocese of Nashville, Tennessee by the late Most Reverend David Choby, Bishop of Nashville at Saint Henry Catholic Church, Nashville, Tennessee. Originally from near Athens, Georgia, Deacon Pyles was born into a military family overseas and raised around the Southeast U.S. Later on, he ended up working for and attending the University of Georgia, where he earned a teaching degree as well serving in campus law enforcement for several years. Deacon Pyles met his wife, Beth Woodard, in Nashville, Tennessee where she was on faculty at Belmont University. Beth is a native of Charleston, SC where she graduated from Bishop England High School before going on to Clemson University, the Medical University of South Carolina, and earning a PhD from the University of Alabama in Birmingham. In 2002, they were married at Holy Family parish in Brentwood, TN.
Deacon Pyles began the discernment process for the permanent diaconate in 2008 and began formation in the fall of 2010. At ordination, Bishop Choby assigned Deacon Pyles to serve as a chaplain to Vanderbilt University and the Veterans Affairs' Hospitals, both in Nashville. After completing five units of Clinical Pastoral Education, he then earned an M.A. in Theology from St. Joseph's College of Maine. In 2017, he was then assigned to Saint Matthew parish in Franklin, Tennessee, serving as Pastoral Associate.
Beginning this fall, Beth accepted an appointment to the faculty at Western Carolina University, and Deacon Pyles has been working for Jackson County government in Emergency Management-911. Now in his 7th year of diaconate ministry, Deacon Pyles is looking forward to working with our pastor, Fr. Paul Asoh, and Deacons John Szarek and Matt Newsome to serve the needs of Saint Mary Mother of God parish in Sylva, North Carolina.